Social entrepreneur Pete Lawrence is the conceptualist and firestarter of the new social network and community, Campfire Convention - a concept he has been working on for some years.
Prior to that, he is probably best known as the co-founder of The Big Chill, now recognised as the originator of the 'boutique' festival experience. The event quickly attracted a large number of very loyal followers, building to a peak in 2005 of 35, 000. Pete gave early exposure to such names as Lily Allen, Goldfrapp, Amy Winehouse, Gotan Project, Mr Scruff, Röyksopp, Zero 7 and Lemon Jelly. After establishing itself as one of the top half dozen UK festivals, Pete was included in Time Out's Top 100 'movers and shakers' alongside the likes of Ricky Gervais, Gordon Ramsay, Madonna, Phillip Green, Brian Paddick, Ken Livingstone and Tony Blair.
In the mid 80s Lawrence was recognised as a respected tastemaker with an unconventional flair when he discovered and spontaneously recorded US folk singer Michelle Shocked on a walkman around a Texas campfire for his fledgling Cooking Vinyl label. The resulting album 'The Texas Campfire Tapes' with its £1 'field recording' budget, went on to top the independent album charts in 1987 and establish the label at the forefront of the world and roots music scenes.
Subsequently, Pete also became a writer, radio DJ and journalist. Through the 90s he had regular columns in Top, Update and Jockey Slut as well as founding, editing and publishing his own On magazine. Pete has arguably been one of the most influential and respected tastemakers on the electronic and downtempo scenes, and made his BBC Radio 2 debut on August Bank Holiday 2006 with a two hour chill out show. As an artist, he records under the name of Chilled By Nature, and in 2006 released his first album 'Under One Sun' on Big Chill Recordings, featuring a number of live guests, including The Swingle Singers, and Mozez of Zero 7 fame, who collaborated with Pete on 'State Of Grace'.
Pete resigned as a shareholder and director of The Big Chill in early 2008, moving to the village of Braunston in Northamptonshire to renovate a house and write a book, soon to be published. He has principally spent his time developing a blueprint for a social network, Campfire Convention, an evolutionary platform for creative thinkers, funded and shaped by its own members, which stages events locally with community focus.
In January 1994, I was invited down to Union Chapel in Islington, which had just opened as an arts centre, and with its labyrinth of rooms and corridors, seemed the perfect environment to do a multi faceted Sunday social, in an era when such a thing didn't yet exist. A lot of people were growing tired of the party scene at that time, so it seemed serendipitous to conceive the idea of The Big Chill, inverting the regular club concept of the times, and making the most ambient space the central attraction, with added sideshows, including brain machines, cafe, art gallery, bookshop, cake and tea stall and of course free internet access (we were the first event in the Uk to offer this facility as well as to publish our own website). The event - more a 'happening' than a club - was a Sunday 'all dayer' and soon attracted hundreds of people for its own brand of social networking, helped by positive early press from David Toop in The Times, DJ and Mixmag, as well as our own On magazine.
After two years, this 'festival in a club' concept evolved into the great outdoors, again on a whim. After camping out with a few friends in a bunkhouse in Llanthony in the Black Mountains, I asked the Abbey owner if he knew of any land locally which we could hire to bring a few friends to celebrate the glorious beauty of the area. He said he knew a farmer down the road, immediately called him and set up an appointment straight away. The farmer agreed, and we camped in his field by a running stream that night, listening to Global Communication's 76:14 album under a bright starry sky, feeling totally inspired and deciding that we had to come back with some friends the following summer.
In August 95, The Big Chill Gala was born. We invited the regulars from the Union Chapel and the word soon spread to around 500 people, who celebrated a gloriously sunny non-stop weekend in the wilds. The line-up was great, but wasn't the main reason people came, including as it did our regulars Matt Black from Coldcut, Mixmaster Morris and of course Global Communication, alongside the likes of George Evelyn (Nightmares On Wax), Springheel Jack and ice sculptor Jony Easterby. There was no security, (other than the farmer with his pitchfork) as no one had breached the secret. We had a handful of gatecrashing ravers and travellers, who stayed a while before deciding that it wasn't for them. The only other visitors were the local police, who firstly read us the freshly implemented Criminal Justice Bill, then decided it wasn't a rave after all, and proceeded to come back to hang out, when they were off duty or not making arrests in the streets of nearby Brecon, where the local jazz festival was taking place. They concluded that it was the most peaceful, best organised event they had ever witnessed in the area. And all this organised from a bedroom in Stroud Green, N4 where I lived, in a cramped flat with my partner at the time, Katrina and the young Ella.
After something of a false and somewhat rollercoaster start with our first attempt to put on a licensed festival (read the blog here), we felt crushed and were bankrupted, but had miraculously pulled off an event, though it was a million miles from what we had envisaged. It was this single fact that kept us going through some tough times. After a year or so licking our wounds, we finally got up and running with the first of five years at the lush and beautiful Larmer Tree Victorian pleasure gardens on the Wiltshire / Dorset borders. The new event managed, once again, to remain a well-kept secret for the first couple of years, but soon gathered an unstoppable momentum, as we gained respect for our attention to detail, choice of idyllic rural locations rather than characterless showgrounds, and for nurturing what was emerging as a loyal online community.
As it blossomed, The Big Chill was seen as offering a unique (at the time) blueprint for a lifestyle ethos that went way beyond being just a festival, and which has since spawned many imitators, with varying degrees of success. We were approached by The British Council, and collaborated very successfully with on a pioneering and iconic 1000 capacity event in the Opera House in Cairo. I took The Big Chill (in microcosm) to one of my favourite places, the Greek island of Naxos, where we put on a week long party three years in a row (2000-2002), which was life changing for some many people in different ways.
The Larmer Tree site eventually became overwhelmed with people wanting to attend the already sold out event or to find a way in however they could, so we branched out and started to do a second festival after being approached by Eastnor Castle in Herefordshire and invited to use their deer park. The seclusion and rolling hills on the edge of the Malverns again provided an ideal setting for us and The Big Chill flourished and grew exponentially between its 2002 debut here (8000) and its peak size (35000). It was a great setting and another 'home' for many years for us.
This situation had worked well for all parties for several years, as the company branched out into opening London venues The Big Chill Bar in Brick Lane, followed in autumn 2006 with the three storey Big Chill House in Kings X, and a one off festival in Goa in 2007, though the fast growth rate was arguably a reason for many of the stresses and strains that inevitably took hold, and eventually led to me parting company with the baby I'd been so involved in nurturing for fourteen years. a couple of years before its demise in 2010 after Festival Republic has bought out myself and most of the shares owned by Katrina and the Cantaloupe Group.
Looking back philosophically, things move on, and I'm probably at my best pioneering new visions for more leftfield cutting edge projects. In truth I'd become bored and frustrated, and craved the stimulus that new and fresh dreams and schemes provide. The greatest thing that The Big Chill's golden years provided for me was the bringing together of people to find the common denominators, the energy, the life-affirming and life-changing qualities that I never imagined were possible. In the environment of the festival, it gave me great pleasure to be in a position to give early exposure in programming artists such as Lily Allen, Goldfrapp, Amy Winehouse, Gotan Project, Mr Scruff, Seasick Steve, Röyksopp, Zero 7 and Lemon Jelly,
We were arguably - for better or worse - the catalyst for the chill out boom at the turn of decade, at the same time establishing ourselves as one of the top half dozen UK festivals, and, through our attention to detail, bringing about the rise of the smaller, more intimate, "boutique" festival.
I parted company with The Big Chill in December 2007.
The Big Chill was involved in a variety of events and festivals around the world, an annual UK gathering as well as events in Europe, Australasia, Japan, Egypt, India and Greece
I record under the name of Chilled By Nature, a project which has been very much a labour of love over the last ten years. It is the realisation of an ongoing musical vision that has been distilling over time, shaped by a bewildering variety of musical influences, and real life experiences.
I have described it as "spiritual music, that celebrates being alive on earth, with all its beauties and imperfections, joys and sorrows". The Chilled By Nature sound is my personal travelogue - an attempt to capture the bigger picture and through it, to reflect my experiences and emotions.
Through Chilled by Nature's EPs, one-off tracks and collaborations, live performances at The Big Chill festival, and the debut album 'Under One Sun' - I have attempted to combine some diverse influences to produce cinematic music of quiet beauty, which plays out in widescreen in the mind's eye.
Chilled By Nature's music illustrates a love of cinematic orchestral textures, drawn from components of musical traditions and forged ahead in new directions, perhaps best described as a new kind of electronic chamber music. Folk, classical, jazz, electronic, ambient, lounge - these are all sounds that I have spent a lifetime soaking up.
A diverse panoply of musicians have been instrumental in shaping the overall musical direction over the years: Pat Metheny, Andreas Vollenweider, Brian Eno, Michael Mantler, Penguin Cafe Orchestra, The Beach Boys, John Barry, Faure, Satie, Zappa, and more recently the new breed of eclecticism that has shaped his programming at the taste making Big Chill festival : Zero 7, Cinematic Orchestra, Sufjan Stevens, Hint, The Necks, Four Tet and Ulrich Schnauss to name but a few influences on my work. These artists share a wide-screen palate of sounds, a desire to create 'big' music and a delight in the journey to the end destination.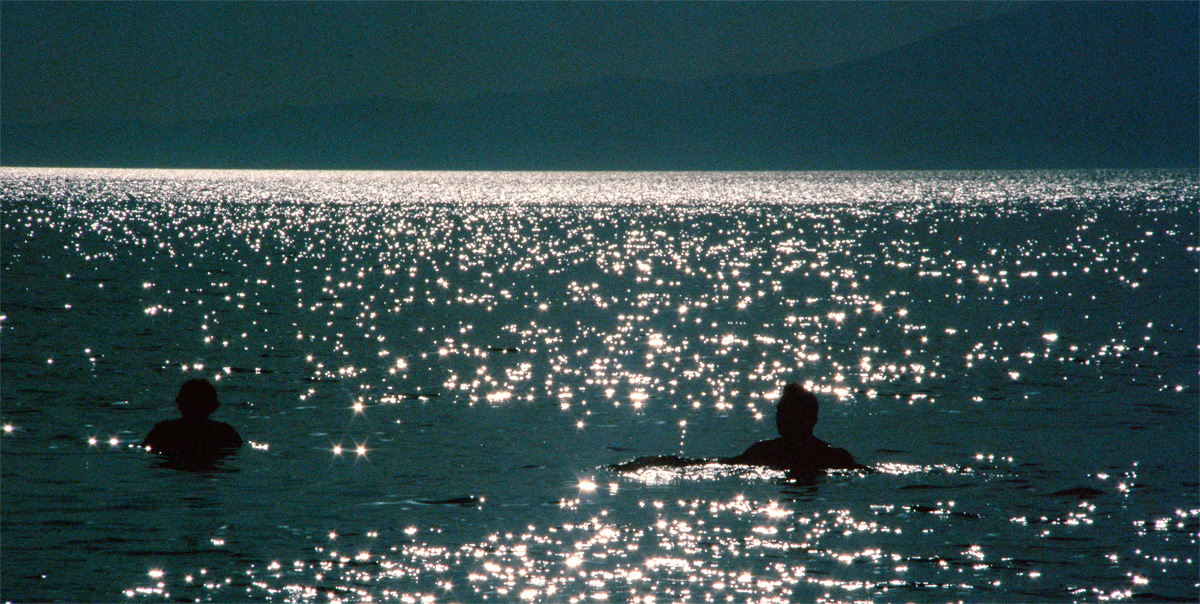 COOKING VINYL AND THE MICHELLE SHOCKED STORY...
In 1986 I founded the independent label Cooking Vinyl which made its mission to champion the new wave of roots and folk music. Amongst our roster in the days I was at the helm (1986-1990) included The Oyster Band, The Cowboy Junkies, Edward II, The Barely Works, The Four Brothers, The Happy End, Rory McLeod, The Real Sounds, Boiled In Lead, Sweet Honey In The Rock and Ancient Beatbox. My meeting with and subsequent recording of Michelle Shocked on a walkman on my first trip to the US in 1986 is a highlight of my life and one I have written about here in an excerpt from my forthcoming book..
"It is now a quarter of a century since I first encountered Michelle Shocked, an event that changed my life. The first meeting – or series of meetings, over the course of a week at Kerrville Folk Festival, East Texas – sticks in my mind more than most. The festival, a three week epic showcasing of that much-maligned breed, the singer-songwriter, had been recommended to me by maverick wordsmith and sculptor Terry Allen, best known for his collaborations with David Byrne and 'New Delhi Freight Train' which was recorded by Little Feat. After a thirty-hour journey trekking down through the Deep South by Greyhound bus from North Carolina I felt like I had arrived in a parallel universe, never mind a different world, on what was the first of many visits Stateside.
Inhabited by bear-hugging bearded banjo pickers and up and coming hopefuls (my tent was next to one of them, a certain Mary Chapin-Carpenter) Kerrville is unique, at least viewed in the context of European music festivals. Run by a man called Rod Kennedy on his own Quiet Valley Ranch in the greenest hill region of east Texas, two hours' drive from San Antonio, it seemed like a kind of songwriters' and storytellers' convention. The weekends revolved around main stage concerts by Texan artists like Nanci Griffith, and its night time hours during the week days (when the weekenders had returned to the city) centred around numerous campfires. They attracted some of the finest folk and country instrumentalists and storytellers, each moving from session to session as they circulated between the campfires in search of the ultimate jam. I had not seen this sort of campfire culture before and my first night was a revelation.
It must have been around four in the morning, with twilight in the air, that a waifish woman in ripped jeans with jet-black hair and a violin appeared around a communal campfire and started joining in. No one seemed to give her much time or recognition, and talking to others around the site about her over the next few days my enthusiasms were met with, at best, the sort of elusive nonchalance that could only suggest that "she isn't one of us". But it was her unique presence, attitude and voice that stood her apart from the long haired, booted Texans, a sharp punk arrogance and a slightly unhinged energy about her. I strongly suspected on first meeting that she was trouble, but despite that, I persisted.
The next few days turned into a quest to find her in full musical stride – something that was likely to happen at any time, anywhere on the site. I learned that her name was Michelle Shocked and caught her playing another two times, including one single song performance as someone's guest on the main stage in front of a hundred or so people. I became transfixed. On my final night there, I decided it was time to make conversation. She was walking across the site and I caught up with her and engaged her in some stilted conversation for ten minutes or so. I realised then that troubled waters were no stranger to her – a broken home; housing problems; the fact that her demo to the festival had been conveniently "lost in the post"; the contradictions in her own sexuality; the LSD use; the political activism. It was as if she immediately opened up her heart, but did so with a warning: "what you'll see ain't necessarily pretty". It was as if, for her, every situation was a political one. Every word, every action, was analysed. Woe betide you if you put a foot wrong. Michelle seemed to fall out with pretty much everyone she worked with and seemed very single-minded about getting her own way.
It was the third and final week of a very eventful trip around the States. I had been recording a travelogue tape for my own reference on an old Sony Corder, kindly lent to me by my friend Dave Roberts, which his father, as it was surplus to secretarial requirements, had in turn given him. It was a precursor to the newly arrived and much slicker Sony Walkman which I couldn't yet afford, so I used this and the crap standard issue grey plastic microphone it came with on my travels to capture some live performances. I showed Michelle the machine, which made her laugh, and then asked her if I could record a couple of her songs. She seemed quite flattered by this, and we agreed to meet later on that evening.
That meeting and the subsequent recording was one of those watershed moments that no one could have scripted. Its significance only really became apparent in years to come, with much water under the bridge, and not inconsiderable heartache surrounding its impact. The two of us decided to go and find a quiet corner of the site for the recording, eventually settling on the dying embers of a campfire location that I hadn't yet discovered during my stay on the ranch. I dumped the recorder on a log that had been used as a table, pressed record and took advantage of a nearby hammock to relax as I listened. Michelle played a couple of songs – '5am in Amsterdam' and 'The Secret Admirer' – and then just carried on. The only breaks were when a car came down the lane next to where we were and reversed, causing her to lose momentum, and then to turn the cassette tape over after 45 minutes. I swayed in the hammock; listening intently to what was the most personal performance I'd ever had the pleasure of receiving. The embers of the campfire crackled and the cicadas chirped rhythmically in unison in the balmy Texan night. After an hour or so, she finished off with a Paul Simon tune and one by Leadbelly, and then made her excuses and left. I packed away the tape in my backpack and went back to my tent to pack for Luckenbach and Austin the next day.
It wasn't until a week or so after returning to the UK that I listened to the cassette. My good friends Stuart and Celia Todd – the couple who had given me a £10,000 loan to start Cooking Vinyl – had moved up to the Hebridean island of Islay and invited me and Andy Kershaw up to DJ in a local village hall as part of the summer festival for which Stuart had been a major organiser. Stuart had already spoken to Andy and gone ahead and booked our air tickets from London to Glasgow, with a Thursday shuttle across to Islay. It was only on the week of our trip that Andy realised that he wouldn't be able to go on Thursday as he had to do his radio show live, so the tickets were duly changed. At 11pm on the Thursday, when we originally we were scheduled to be in transit, I had a call at home from Andy from the BBC, mid-show. He had just heard the news on the network: the light aircraft flying from Glasgow to Islay had hit a mountain and crashed. That was the plane we had originally been booked on. I later heard that most of the passengers had survived without injury, but the pilot was decapitated.
The trip up there the next day involved Andy and I trying our level best to keep this news from Anna, his girlfriend at the time, who was a very nervous flyer. I had to stand between her and many Scots at Glasgow airport reading the front-page news with interest. When we eventually touched down at the small island airport, teeming with police, the truth was finally told.
It was a relief to get there safe and sound, and the night was a roaring success. I remember many high-spirited islanders forming a very long conga dance, and moving in and out of the hall and around the back to some soukous track that Andy had put on. But it was over breakfast eggs the next morning that circumstances truly intervened. The music on the system finished and Stuart asked if either of us had something to play. Andy looked at me and I thought of the cassette, which I still hadn't played or unpacked from my rucksack. I put it on. I was immediately transported back into the Texan night ambience: the sound of the cicadas was vivid and the perfect backdrop for an intimate encounter with Michelle, who sounded as if she was almost whispering her songs, with cheery introductions to the tracks. That first playback was a revelation – not just for me, but clearly for Andy, Stuart and Celia too. Andy was silent for a few minutes and then said, "Pete, I'd like to try this out as a session on my programme."
So upon my return to the drab flat I was renting in London N4's Haringey Ladder, I managed, by coincidence and chance, to track down Shocked (aka Michelle Karen Johnston) to a squat in Manhattan and she readily agreed to give permission. A few weeks later, the four-track session went out live and Andy called me mid-programme to say that he'd never had such an overwhelmingly positive and immediate response. He was the one who convinced me to release the tapes as an album. My new partner at the label had come on board the night before I left for the States – his name was Martin Goldschmidt, a London agent and small label owner (Forward Sounds) – but he was lukewarm about the tapes' prospects, seeing it as a "nice little side project". In November 1986, after a minimal two hours of editing and cleaning up the cassette recording just around the corner from my house with Tony Engle at Topic Studios on Stroud Green Road, it was released as a no-frills, vinyl-only album called 'The Texas Campfire Tapes' on Cooking Vinyl COOK 002."
The above piece is an excerpt from my forthcoming autobiographical memoirs due to be published soon...
Prior to The Big Chill I founded, edited and published the free lifestyle magazine ON, which in many ways prepared the ground for The Big Chill